Profile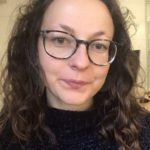 Lorna Camus
Curriculum Vitae
Education:

International High School in France (CIV); University of Edinburgh (undergraduate [MA] and masters [MSc]); Heriot-Watt University (PhD)

Qualifications:

Master of Arts (Honours); Master of Science (soon!)

Work History:

Play Scheme (in France); Deans Solicitors and Estate Agents; Volunteering at the Royal Edinburgh Hospital and in the Edinburgh Courts; Supporting Positive Paths

Current Job:

PhD student and Postgraduate Teaching Assistant

Employer:

I study and work in the Psychology Department of Heriot-Watt University in Edinburgh, Scotland.
Favourite thing to do in my job: Going to conferences and chatting about Psychology with people!

About Me

I'm a Psychology researcher who loves reading and cats!

Read more

I am both Scottish and French, and grew up in France before moving to Scotland to come to university (5 years ago). I used to ski in France but couldn't keep it up in the UK, now I do martial arts on and off!

I live in Edinburgh with my boyfriend and another flatmate. We don't have any pets but would love to adopt a cat! I am currently in my first year of my PhD and still settling in!

I've recently gone vegetarian and miss burgers and bbq pizzas the most… I'm currently watching the new Doctor Who, Sherlock (I've only just started!) and The Good Place (no spoilers please I haven't seen the new season!). I'm also a big fan of Marvel movies and comics.

My Work

I research autism and mental health at university. I also teach statistics!

Read more

For my PhD research, I am looking at how moving to secondary school affect autistic children's mental health (things like their mood, feelings, behaviour).

Going to a new school and becoming a teenager is already difficult for children without autism (you might have had a hard time moving to high school, and that's normal!) but for autistic children this can be even harder as they can struggle with new environments, making new friends or bullying for example. I'm looking at how this can increase nervousness (or anxiety) and decrease mood for these children, and this will hopefully help us find a way to make the move to high school less stressful for them!

I'm also helping out with a study on how we can better measure depression using information gathered by our phones (like how much you speak to your friends through calls and text messages, or how many apps you use and for how long). We hope this will help us measure and treat depression better, and hopefully help people who are struggling with depression better.

In my role as a Postgraduate Teaching Assistant, I am assisting a professor at Heriot-Watt with the teaching of statistics and research methods to first year undergraduate Psychology students. This means we go in a computer lab and they work through some instructions on how to run analyses on data from psychological experiments. I'm here to teach them how to do it and to answer any questions they have.

My Typical Day

I do a lot of reading but also have a lot of independence and flexibility to do what I want when I want (within reason)!

Read more

My typical day starts at 7.30 when I get up to go to uni.

I'll have breakfast then get ready, then walk 15 minutes to catch a bus to the university. I'm usually in my office by 9.30.

I usually spend my morning checking what I have to do for the day, then reading some scientific papers (I'm always reading!) and taking notes on them. This helps me know why what I read is important and how it helps my research.

Some days I also tutor undergraduate classes (Statistics at the moment) so I spend 1 to 2 hours in the lab or in a tutorial class.

I also spend some time during the day browsing Twitter to check academic news (yes scientists are on Twitter!) and look for new conference or training opportunities. As I am still learning to do research, I spend a lot of my time looking for new training to learn new things about research and science!

Depending on which stage of the research process I'm at, I will also be doing things like recruiting participants for my study, run the study and meet people so they can participate in my study, and do statistical analyses on the data I collect during my study. I might also be writing up the results in a report!

There are 3 other PhD students in my office so I also spend my day chatting to them now and then.

What I'd do with the prize money

Events for autistic people and their families to learn more about what we do in universities, how relevant it is to them, and how they can get more involved.

Read more

I would like to use the prize money to make research at my and other universities around Edinburgh more transparent for autistic people and their families.

Many people in the autistic community feel like the research that is done about autism is not done in their best interest and does not answer the questions they would like to have answered.

To try to increase trust and interest in our research, I would like to organise events for autistic people and their families to visit universities and research labs, become familiar with what we do and why and how we do it, and most of all, arrange to have discussions about where they see our research go next, and how we can involve them more in the process.

My Interview

How would you describe yourself in 3 words?

Passionate, geeky, funny

What's the best thing you've done in your career?

Volunteering in the Edinburgh Courts and running psychology outreach sessions in a high school in Edinburgh.

What or who inspired you to follow your career?

People and how they think, act and feel are what intrigued me most and inspired me to study Psychology.

What was your favourite subject at school?

English Literature

What did you want to be after you left school?

I didn't know, but was really interested in Psychology so decided to study that.

Were you ever in trouble at school?

Just for talking too much in class!

If you weren't doing this job, what would you choose instead?

Animal conservation

Who is your favourite singer or band?

Hozier

What's your favourite food?

French pastries

What is the most fun thing you've done?

My flatmates and I went on a road trip to Skye and ended up pitching tents in the dark because of bad planning!

If you had 3 wishes for yourself what would they be? - be honest!

1) I'd like to get my Spanish back (don't use it, lose it as they say!); 2) I hope to stay healthy for as long as possible; 3) To keep learning new things about people and the world for as long as possible!

Tell us a joke.

What did the buffalo say when his youngest went off to college? "Bison!"
---
---