Students! Did you do your profile survey? Check your email for a chance to win a £20 voucher and tell us what you think now!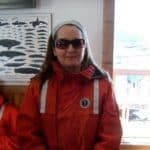 Firstly, a huge thank you to everyone that voted for me. I am utterly amazed to have won in the Childhood Zone and still can't quite believe it. It's slowly sinking in! In particular, I would like to thank all of you who chatted me with and the other scientists in the zone and asked me questions after the chats. I really enjoyed talking with you and hearing your thoughts about my work and the big questions in psychology. I was astounded at the range and quality of questions that we were asked in our zone, from our thoughts about the nature/nurture debate, the relationship between social media and wellbeing to whether mermaids are real. I was blown away by the detailed questions about my work and the impact that it will have on the lives of young people and their families. These questions really made me think and that's a great thing!
Taking part in I'm A Scientist has been a truly fantastic experience and I have learned so much over the past two weeks. I learned how to quicken my typing speed (!) but importantly, how to talk about my work in everyday terms. This was a huge help to me and something I will continue to work on. I really think that it is important for scientists to be able to talk about their work to everyone and something that we are not always good at.
I also would like to thank the fellow scientists in my zone, Nathan, Sarah, Owen, Lorna and Tom. We worked well together and that's another key skill as a psychologist, working collaboratively. I learned lots from my fellow scientists and enjoyed hearing about their work and thoughts about psychology. There was a huge sense of fun throughout this event and that really shone through. I am going to miss the chats and questions. If anyone is thinking about taking part in I'm a Scientist in the future then I would strongly encourage them to go for it.  It was hard work, fun, humbling, thought provoking, and so much more.
Last but not certainly not least, I would like to say thank you to the I'm a Scientist team for seamlessly organising and hosting the event and for just generally being so helpful, kind and utterly fantastic throughout. I would also like to thank the British Psychological Society for sponsoring our zone. I am sure that their investment will pay off as the pupils in our zone are the psychologists of the future. In this instance, we are all winners!
Scientists! If you'd like the chance to win funding for your own public engagement work, apply for the next I'm a Scientist, Get me out of here: imascientist.org.uk/scientist-apply